<STEP-1>
Solder the 16-pin (x1 row) pin header socket to the LCD display.
Make sure the socket is soldered on the correct side of the display board
Click on the picture below for a closer view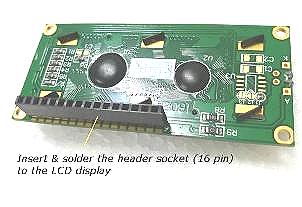 ►
<STEP-2>

insert -> solder -> trim leads
Insert the components to the PCB then solder & trim the leads. Repeat this for a groups of 3~4 components at a time.
(do not trim the pins of relay, sockets, switches)
Start with the jumpers (4 pcs of different lengths) followed by the IC socket (with no IC on it).
Follow this sequence for the remaining parts :
* the resistors
* diodes (1N4148 & D1)
* 4 MHz crystal
* 7805 reg. IC (horizontal mounting)
* electrolytic capacitors (horizontal mounting)
* ceramic capacitors
* mylar capacitors (0.001uF, #102)
* inductor (L), 100uH
* reed relay
* pin headers (6 pin x 1 row), 2 pcs (for LCD display)
* pin header (4 pin x 2 row), 1 pc. (calibration links)
* switches, S1, S2, S3, S4
* solder the 2-pin XH-254 connector base (for 9V battery)
* trimmer pot. (VR1)
►
<STEP-3>
Once the soldering work is completed you may proceed to :
Insert the PIC microcontroller IC to the socket

Insert the LCD display to the main board

Insert the 9V battery clip lead wires connector to the PCB